Love is love. Abuse is abuse.
Domestic violence is not strictly a heterosexual, cisgender issue. Abuse happens among gender and sexuality minorities more than you may think. It's at least just as common as it is among heterosexual cisgender populations.
1 in 4 to 1 in 3 LGB/Q individuals have experienced intimate partner violence.

1 in 3 – 1 in 2 trans* folks have experienced intimate partner violence.

At least half of all trans* folks who came out to their partner were hit after coming out.

Some of the highest rates of intimate partner violence are experience by nonbinary individuals, bisexual women, and transwomen of color.
It's understandable that many victims in the LGBTQ+ community often don't report the violence they experience or seek services from advocacy programs out of fear of judgment, invalidation, discrimination, gaslighting, and further victimization. Those fears are valid – and too often are a reality. Safe Haven is here for all victims and survivors. Our purpose is to empower each survivor, as an individual, with all of the information and tools they may need or want. Advocates will make sure the focus of each situation is on the survivor's safety, not their gender or orientation.
Most victims of domestic violence, regardless of sexuality or gender, experience a similar pattern of abuse, but queer and trans* victims and survivors experience some additional dynamics and barriers:
Outing:  The abuser may threaten to "out" the victim (as queer or trans*) to work colleagues, family, friends – especially when outing would impact the victim's safety, acceptance, employment, etc.
Internalized homophobia/transphobia:  The abuser might call a trans* partner "it," treat their partner as subhuman, or other abusive acts that add fuel to the fire of internalized hate.
Stigma:  LGBTQ victims may not seek help out of fear of showing a lack of solidarity with the queer community. Many hide the abuse out of a heightened fear that society will perceive queer relationships as inherently dysfunctional.
Small tight-knit communities:  Queer communities are also very small. When others find out about the abuse, survivors may likely lose friendships, chosen family, or connection to their community.
Agency biases and accessibility:  Many domestic violence advocacy programs only direct their messaging toward hetero/cis women, making it inaccessible for LGBTQ victims.
Discredited by law enforcement:  Law enforcement is more likely to conclude that "fighting" between queer partners is mutual (especially if the primary aggressor isn't noticeably physically stronger or bigger), overlooking the larger context of abuse and the history of power and control in the relationship.
Myths:  LGBTQ abusers use the myth that abuse doesn't happen in queer relationships or that it's not abuse if there are not physical injuries.
Less (or no) legal protection:  In some states, adoption laws do not allow same-sex parents to adopt each other's children, which can leave the victim with no legal rights should the couple separate. The abuser can easily use the children as leverage. Even when the victim is the legally recognized parent an abuser may threaten to out the victim to social workers hostile to LGBTQ parents, which may result in a loss of custody.

Note: the law is clear in Minnesota that domestic violence is a crime regardless of either partner's gender.

Oppression:  All of the individual oppression of abuse exists within a context of heterosexism, cissexism, and social oppression of queer and trans* people.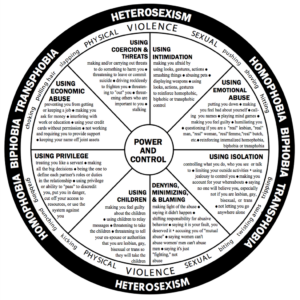 This adaptation of the Power and Control Wheel, originally developed by the Domestic Abuse Intervention Program (DAIP), depicts what many LGBTQ+ victims of domestic violence experience throughout an abusive relationship.
Power and control form the center of the wheel, as this is what the abuser is ultimately attempting to achieve over their partner.
Eight tactics form the spokes of the wheel. These are typical forms of abuse that many victims experience.
Physical and sexual violence (whether acts, threats, or implications) form the rim of the wheel, as these reinforce the other tactics and serve to keep the victim in the relationship.
All of the dynamics of abuse, or individual oppression, exist within a broader context of social oppression: including heterosexism (and cissexism) and homophobia, biphobia, and transphobia (also ageism, racism, able-ism, etc)
The Power and Control Wheel is often used to validate victims' experiences and show the many barriers victims face when attempting to leave an abusive relationship.
Resources for LGBTQ+ victims and survivors
If you don't feel comfortable reaching out to Safe Haven, please reach out to someone. Here are a few other options:
Prism:  Twin Ports (facebook, but sometimes in-person) group aiming to bring community members together in order to provide safe and brave spaces, resources, and outreach for the LGBTQ+ community and the greater Northland.
OutFront Minnesota:  Programs and services to LGBTQ+ Minnesotans in the areas of community organizing, public policy, anti-violence, law, education, and training. 612-822-0127, Anti-Violence Program Crisis Line 612-822-0127 option 3
Transforming Families Minnesota:  A safe, welcoming space for transgender, gender non-conforming, and questioning youth and their families come together for monthly gatherings to support each other and provide the opportunity to meet and learn from other people traveling the same path. 612-321-8416, TransformingFamiliesMN@gmail.com
Gender Justice: Minnesota nonprofit public interest law firm and advocacy organization. 651-789-2090, if you're seeking representation they want you to submit this form
FORGE:  National transgender anti-violence organization that provides training and assistance for anti-violence professionals and advocacy, services, and referrals for survivors of sexual violence, domestic violence, dating violence, stalking, or hate violence. AskFORGE@forge-forward.org, 414-559-2123
***Here's a really great safety planning tool from FORGE
Transgender Law Center: National organization providing information about laws and policies that affect trans* people across many areas. 510-587-9696, to request legal information call 415.865.0176 or submit this form.
Trans Lifeline:  National volunteer-based crisis lifeline staffed by transgender people for transgender people. 877-565-8860
The Trevor Project:  National crisis intervention and suicide prevention phone service available 24/7 at 1-866-488-7386, as well as help via text, chat, online community, and a support center.